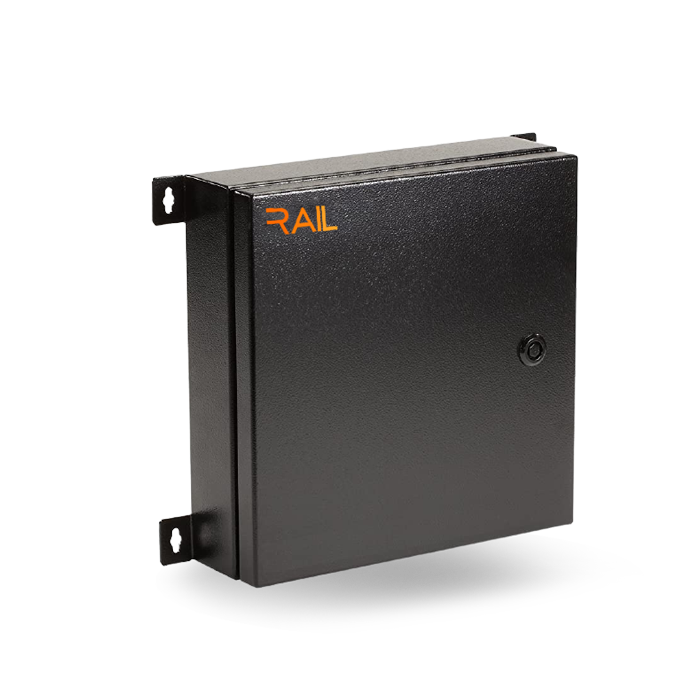 STATIONARY AEI READER FOR RAILCARS
The Denali consists of a AEI Reader with two antennas, a cellular modem and a presence detector. All processing of data is performed by a central AEI Reader Server, which retrieves the raw AEI tag and sensor data, creates a train consist and distributes this data securely to the cloud.
With this equipment you can feel confident knowing when cars pass, even at speeds up to 40 mph. Integrating a Denali AEI Reader into your railyard, will significantly reduce your demurrage costs, resulting in a quick ROI.
Can be equipped with a solar option, that will make the Denali AEI Reader completely wireless.
Developed for industrial rail shippers and short line railroads looking for an economical means to automatically identify rail cars on low speed tracks (less than 40 miles per hour) or at a yard entrance.
Fixed AEI Reader with solar power option
Cellular option is available
Reading speeds to 40 MPH
Fully rugged solution built to work in the harsh enviroments (enclosure IP66)
Quick ROI especially with demurrage issues
The Denali reads railroad transportation tags AT5110, AT5118, AT5125, AT5133, AT5510, AT5541 and AT5549.
It has both a USB and Ethernet LAN interface. Up to six devices can simultaneously make a network connection and receive AEI tag data.
The Denali reader can connect two antennas. A single reader can read tags on both sides of a rail vehicle.
The Denali reader has two digital inputs and two digital outputs.
Custom build options are available.
Operating temp- 40*c- 60*c
There are seven main components in the controller's enclosure. These are:
AEI RF Reader
Cellular Modem
Ethernet Switch
Terminal Block
12 VDC Power Supply or 24 VDC to 12 VDC converter
5 VDC Power Supply or 24 VDC to 5 VDC converter
The 120/240 VAC version of the system uses the 12 VDC and 5 VDC power supplies.
There are six cable connections that must be made with the Controller. The following is the list of connections:
Near antenna 1 coaxial cable (connector is N-Female)
Far antenna 2 coaxial cable (connector is N-Female)
Ground stud
120 VAC power cable
M-Gage presence sensor four wires to terminal block
Cellular modem antenna
The Denali Reader Solar System shipment contains the following items:
Two external antennas and pole mounting brackets (one has a M-Gage presence sensor attached)
One Denali Reader Board mounted in the SunWize enclosure (which includes the AEI RF reader, cellular modem, 12 VDC to 5 VDC converter)
One 10 foot and one 40 foot coaxial cable
Two test AEI tags
SunWize Solar System (which includes enclosure, battery, solar panel, control panel and mounting hardware)
Cellular Modem
The standard Denali AEI Reader includes a cellular modem with a static IP. The AEI Reader Server uses this cellular connection to retrieve data from the Denali AEI Reader and obtain its status. A connection can also be made through a customer's network, which would further lower the cost by eliminating the cellular modem and the associated service charges.