PRODUCTS
Everything your operation needs to run smoothly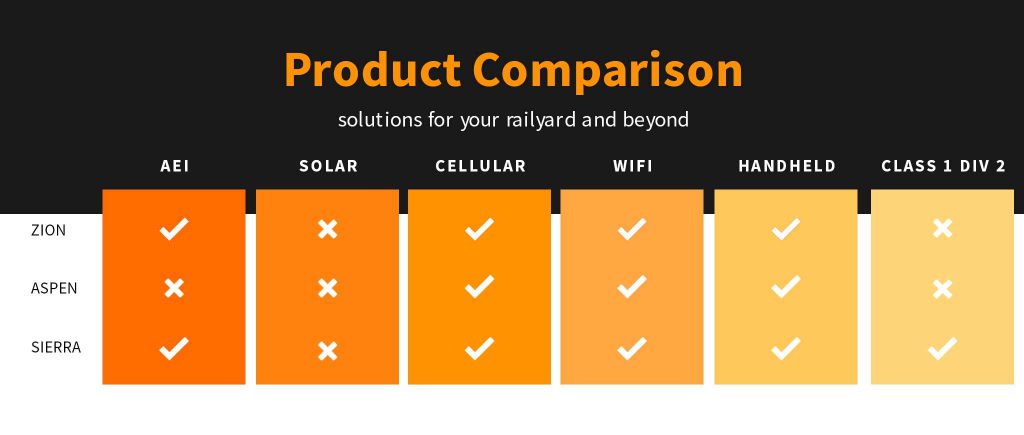 Meet Your New Assistants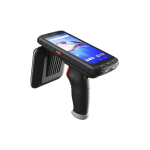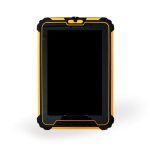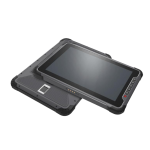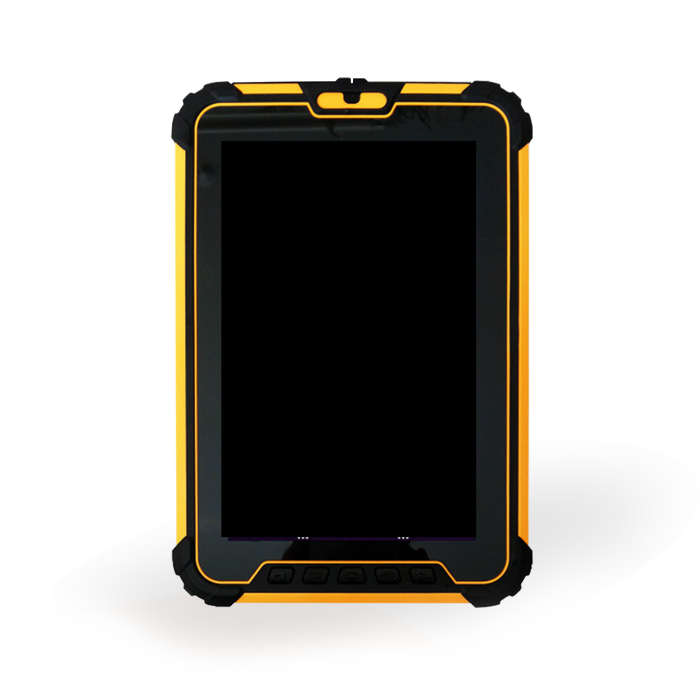 fast-scanning AEI reader and tablet
Fully customizable rugged handheld tablet. The Aspen tablet provides rugged mobility and accuracy while managing rail yard activities. Utilizing the RFID scanner you will be able to efficiently manage yard inventory, complete inspections, and can capture transload data. The Aspen tablet will bring AEI Reader functionality to any third party applications.
Enabled with 4G, Wifi, and Bluetooth capabilities and features a front and rear camera. Equipped with a wide temperature 10000mAH battery. IP67 highly reliable, sunlight readable screen with capacitive touch, water/dust proof; drop resistance from 4 ft. Optional functions like barcode scanning, RFID reader, and fingerprint identification available.
Aspen adopts Qualcomm MSM8953 Octa core 2GHz CPU and Android 9.0 operation system; 4G RAM,64G ROM,4G LTE.
1980*1200 500 nits screen is readable under sunlight; Optional functions like barcode scanning, RFID reader, fingerprint identification.
It has 10000mAH battery (Wide temperature battery); IP67 high reliable three-proof structure water/dust proof; drop resistance from 1.2m.
Advanced system – Android 9.0 operating system; CPU MSM8953, 8 core, 2GHz CPU; RAM 4GB ROM 64GB, Micro SD 128G
Visible under strong light – 7-inch LCD screen, 1920×1200 IPS capacitive touch screen with 500 nits brightness
Powerful function – Multi function1D/2D bar code scanning, LF/HF/UHF RFID reader, fingerprint identification)
Multi communication modes – 3G/4G, WIFI, Bluetooth and many wireless communication modes
Support jacket extension – Satisfy custom applications from customers
Certification – CCC/CE/ROSH/FCC/IP67/MIL-STD-810 SPECIFICATIONS
Standard Function
Operating System
Android 9.0
CPU
MSM8953, 8 core CPU, 2GHz
RAM
RAM: 4GB
FLASH: 64GB
Extended Storage
Micro SD, Maximum 256G
USB port
Type-C USB port; Support to connect U-disk/Mouse/Keyboard/OTG line
HDMI
HDMI port
OTG
Through OTG can meet 100M network port, network card setup, PPPoE dial-up, web browsing. Support OTG extend RS232 serial port/485 serial port/RJ45 Serial port
External port
Charge port, headphone port
Protection Grade
Industrial Protection Grade
IP67
Drop Grade
Drop resistance from 1.2m
Wireless Communication
Bluetooth
Support 4.2
GPS
GPS+BDS +GLONASS
Support high precise GPS module (Ublox M8N/M8P,accuracy is 0.5 -3M)
2G/3G/4G LTE
China/India:
LTE FDD:B1/B3/B5/B5
LTE TDD:B34/B38/B39/B40/B41
WCDMA:B1/B8
TD-SCDMA:B34/B39
EVDO/CDMA:BC0
GSM:900/1800MHZEurope/Africa:
LTE FDD:B1/B3/B5/B7/B8/B20/B28A
LTE TDD:B38/B40/B41
WCDMA:B1/B2/B5/B8
GSM:850/900/1800/1900MHZ

America:
LTE FDD:B2/B4/B5/B7/B8/B12/B13/B14/B25/B26
LTE TDD:B41
WCDMA:B1/B2/B4/B8
GSM:850/1900MHZ

Physical Parameters
Display Screen
7 inch LCD screen, 1920*1200IPS brightness standard, capacitive touch screen
Keyboard
Android menu, Homepage, Return, Volume, Barcode, ON/OFF, Reset
Camera
5 million pixels front camera, 13 million pixels rear camera with automatic focus
and lighting function
Headset
3.5mm audio Interface, has MIC and Single loudspeaker
LED indicator light
Support (ordinary flicker, Call fast flicker, missed calls, charge indicator)
Flashlight Function
Support, can be used for emergency lighting
Googleplay store
Support
Gravity sensor
Support
Compass
Support
Gyroscopes
NOT Support
Acceleration sensors
Support
Light and distance sensor
Support
Vibrating motor
Support
FM
Support
Rechargeable Lithium Battery
3.8V, 10000mAh temperature wide battery
Dimension
232*158*22
Weight
810g
Environmental Characteristics
Working Temperature
-20 ~ +55
Storage Temperature
-40 ~ +70
Humidity
5%-95% relative humidity; no condensation
Optional function
Barcode Scanning
1D Laser Scanner Index (Internal):
Honeywell N4313 or Zebra EM1350
Scanning speed: 104 times/second+12 times/second (two-way scanning) Scanning distance: 2.5cm-114.3cm
Scanning angle: 47±3¡(default) /35±3¡(reduced code)2D Barcode Scanner Ind ex( Internal):
Newlands EM3096 Honeywell N3680 Motorola SE4750 Honeywell N6603
Identification ability: 1D, 2D, OCR
Scanning angle: rotate 360¡, incline±50¡, deflection ±50¡ Field of View: Horizontal 36¡, vertical 23¡
Depth of field: 4cm-23.5cm
Environmental luminance: 0~100,000 LUX
RFID
HF RFID ( Internal):
Support NFC/NXP,13.56MHZ ISO14443A,B and ISO15693 protocol, reading distance 0-3cm,Tag support type:SR176,SRIX4K T• YPE-B ,I,-Code2,TI RFID
Tag -it HF-I,EM4034,Mifare Classic ETC
LF RFID: 134.2KHZ LF RFID, support ISO11784/5 protocol, support to read IC card(FDX/HDX), 125KHZ LF RFID, support to read ID card
UHF RFID: Internal, Ray links RLM060 or ThingMagic M6E-NANO,EPC C1 GEN2/ISO 18000-6C,output power 10dBm-30dBm, Reading distance: 1 m, Ceramic antenna: 0.3db (25*25*4 mm)
Far infrared meter reading
Working frequency 37.9K
Fingerprint read module
Supports fingerprint entry, image collection, fingerprint recognition, fingerprint deletion etc.
Type: TCSIST
Sensor type: capacitive
Effective image size:12.8mm x 18.0mm Image size: 256*360
Resolution:508 ppi (dpi)
Contrast mode(1:1); search mode(1:N) FIPS 201 compliant capability (TCS1)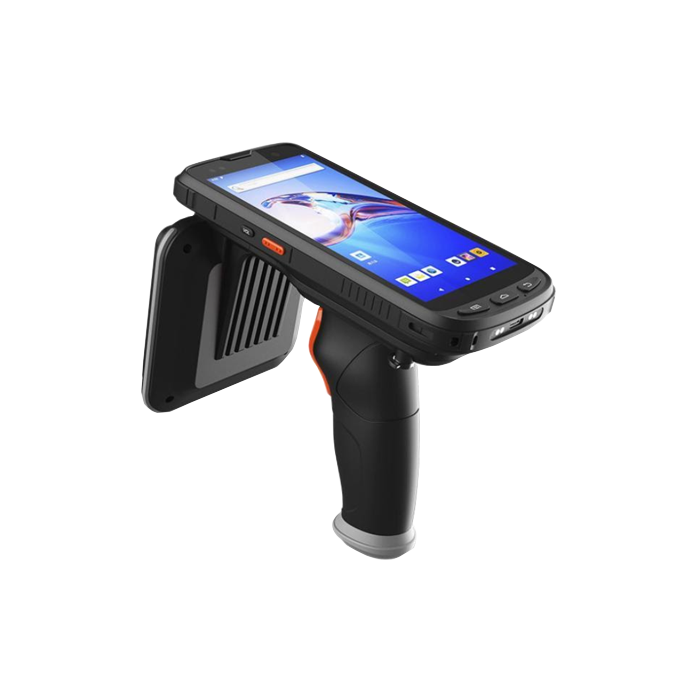 handheld, pistol grip AEI reader
Zion is a handheld reader that was developed with the android system, which integrates 1D or 2D bar code scanning, 4G Netcom, GPRS, portable intelligent data acquisition equipment with WIFI, bluetooth and RFID functions, with a user-friendly interface and easy operation with "thing magic" high-performance module and with the advantages of efficient inventory checking, remote scanning and accurate reading, and is suitable for warehousing and logistics, multi-scenario applications such as smart stores and archive books.
Simple body design, high-definition large screen display
This machine adopts a simple body design and is used on a 5.5-inch IPS HD display screen of Corning Gorilla. 1440*720. The resolution and corner arc design give consideration to the comfortable hand feeling and the fall resistance of the machine itself.
Powerful fast charging and WiFi roaming
This machine is equipped with 9000mAh lithium polymer battery, with long endurance, fast charging function and single charging duration. Shorter. And powerful WiFi roaming function, which can realize seamless Wifi hotspot switching and maintain uninterrupted network connection experience.
Excellent RFID read/write function and multi-tag remote read/write
This machine adopts omni-directional spiral antenna, professional scanning handle and shield, and supports UHF single label and multi-label reading, distance Further distance, faster efficiency, more stable overall performance, and effective reading distance up to
20m
Product Technical Parameters
Size
166*79*31±2mm (excluding shield handle)
Weight
650g
Display
5.5-inch IPS HD screen with 720*1440 resolution
Touch screen
Corning Gorilla third generation industrial grade multi-touch capacitive screen
Expansion Slot
1 Sim card slot (MUP-C785)1 TF card slot
1 PSAM slot (MUP-C785)
Communication Interface
1 Type-c interface
Indicator lamp
Network indicator light, charging indicator light
Keyboard
Scan key and function key
GPS navigation
GPS/BeiDou navigation Optional, error range ± 5m
Performance Parameter
CPU
MT6771 eight-core 64-bit processor
Four cores A73 + four small cores A53, with a dominant frequency of 2.0GHz
Memory Capacity
RAM:2GB ROM:16GB (standard)
RAM:4GB ROM:64GB (optional)
Operating system
Android 9.0
Extended memory
Support 256GB Micro T cards
Data Communications
4G
TD-LTEBand38/39/40/41FDD-LTEBand1,2,3,4,7,17,20
3G
WCDMA(850/1900/2100MHz)
2G
GSM/GPRS/Edge(850/900/1800/1900MHz)
WIFE
2.4G/5G dual band, compliant with IEEE802.11a/B/g/n/ac
Supports Wifi roaming (seamless switching)
Bluetooth
complies with influooth4.2
Work Environment
Operating temperature
-20℃ ~ 50℃
Storage Temperature
-20℃ ~ 70℃
Relative humidity
5% ~ 95% does not condense
Protection level
IP65
Enclosure
Standard
One standard lithium battery, one charging head and one Type-c charging
Optional
Recharge stand
Battery performance
Battery capacity
9000mAh lithium polymer battery, voltage 3.8V
Standby time
Theoretically, the wireless communication function can be turned off for 360 hours.
Duration of charge
Less than 2 hours (supports 5V2A/PE2.0 16W fast charging)
Working hours
More than 14 hours (fully charged at a time)
Camera (optional)
Camera (optional)
Front 500W pixel camera
Rear camera
Rear 1300W/2000W pixel camera available, with flash, auto focus function
NFC (optional)
Operating Frequency
13.56MHz
Protocol
ISO14443A/B ISO15693, NFC-IP1,NFC-IP2, etc.
Label Standard
M1 card (S50,S70),CPU card, NFC tag, etc.
Read/write distance
5-10cm
Barcode collection
Two-dimensional bar code
2D scan engine
Zebra SE4710/Zebra SE2100/others
Supports two-dimensional bar code types.
PDF417,MicroPDF417,Composite,RSS,TLC-39,Datamatrix,QRcode,MicroQRcode,Aztec,MaxiCode, PostalCodes,USPostNet,USPlanet,UKPostal,AustralianPostal,JapanPostal,DutchPostal, etc.
RFID (optional)
UHF(Superhigh frequency)
RFID module
ThingMagic M6E-Micro module
Supported frequency
915MHz, 865MHz(865-868MHz or 902-928MHz)
Supported protocols
GEN2ISO18000-6C protocol for EPC C1
Reading distance
0-20 m distance (related to labels and Environment)
High frequency
Supported frequency
13.56MHz
Supported protocols
For ISO15693 and ISO14443 dual protocols
Reading distance
0-7cm (related to labels and Environment)
High Frequency (CPU card)
Supports reading and writing CPU cards and using PSAM
Low frequency
125K/134 K animal ear tags
Active 2.45G (customized)
Distance 200 m 200 tags can be read at one time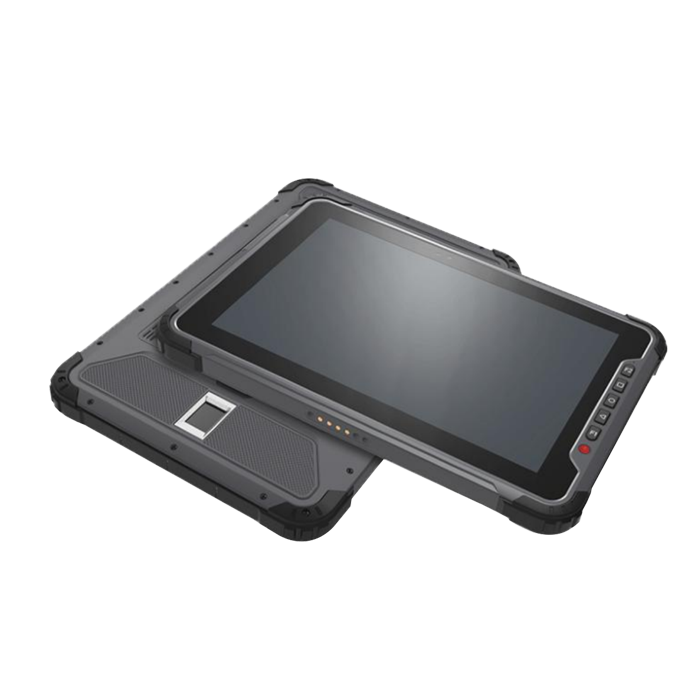 ultra-rugged, waterproof industrial tablet
Sierra rugged tablet is a modern, waterproof industrial tablet designed for extreme applications and the harshest conditions. It has a specially designed, reinforced construction that meets the requirements of IP67, which confirms the protection of the device against dust and water. Specifically designed for data collection on the rail and off.
Android 10.0, Fast running speed, stable – performance and convenient operation; Qualcomm MSM8953, Adreno 506GPU, 8 core, 2GHz CPU, RAM 4GB ROM 64GB, Micro SD 512GB
IP68 three protection grade, drop resistance from 1.2m
10 inch LCD screen, 1920*1200 IPS capacitive touch screen
Google Play store and free SDK
1D/2D bar code scanning, NFC/UHF RFID reader, fingerprint identification
3G/4G, WIFI, Bluetooth, GPS
38Wh, 10000mAh,endurance is about 12 hours
CCC/CE/ROSH/FCC/IP68/MIL-STD-810G
277x183x19mm, 1109g
General Specs
Display Screen
10 inch LCD screen, 1920*1200 IPS screen, capacitive screen, Corning Gorilla Glass (supports passive capacitive pen and can be operated by wet hands) ,500 NITS
Operating System
Android 10.0
CPU
Qualcomm MSM8953, 8 core, 2GHz, RAM 4GB ROM 64GB, Micro SD maximum 512GB
I/O port
RJ45 port*1, Mini HDMI port*1, USB 3.0 port*1, Type C port*1,DC port*1,3.5mm
headphone port*1, Docking Station pogo pin*1,NANO SIM card slot*2, SD card slot*1, support OTG (Through OTG can meet 100M network port, network card setup, Support
OTG extend RS232 serial port/485 serial port/ U-disk/Mouse/Keyboard)
Wireless Communication
Bluetooth
4.2,distance 10m
GPS
Support GPS, BDS, GLONASS, accuracy about 10 meters
WIFI
IEEE 802.11a/b/g/n/ac, 2.4G and 5G dual band
2G/3G/4G
LTE FDD: B1/B2/B3/B4/B5/B7/B8/B20/B28 LTE TDD: B38/B39/B40/B41
WCDMA: B1/B2/B4/B5/B8
GSM: 850/900/1800/1900MHz
Physical Parameters
Camera
5 MP front camera, 13 MP rear camera with automatic focus and lighting function
Keyboard
Android menu, Homepage, Return, Volume+ -, Function button F1 and F2, ON/OFF
Headset
3.5mm audio Interface
Mic and Loudspeaker
Support
LED indicator light
Status light*1,Charging indicator light*1
Sensor
Support Gravity sensor, electronic compass, gyroscope, ambient light and distance sensor
FM
Support
Lithium Battery
10000mAh /38Wh, Removable, Support Quick charging QC3.0, Hot swap
Dimension
277x183x19mm
Weight
1109g
Color
Gray
Protection Grade
Industrial Protection Grade
IP68
Drop Grade
Drop resistance from 1.2m
Environmental Characteristics
Working Temperature
-20℃ ~ +60℃
Storage Temperature
-40℃ ~ +60℃
Humidity
5%-95% relative humidity; no condensation
Optional Function
1D/2D Barcode Scanning
2D laser barcode scanner: Honeywell 6603/NLS N1
RFID
NFC (HF) RFID:
Working frequency: 13.56MHZ compatible with ISO14443A, B and ISO15693 protocols, supports Mifare card, and the recognition distance is 0-3cm.LF RFID:
134.2KHZ LF RFID, support ISO11784/5 protocol, support to read IC card(FDX/HDX)
125KHZ LF RFID, support to read ID cardUHF RFID reader:
A: 865-868MHZ(European Standard) Single tag: 0.7m Group reading: 0.2m
B: 902-928MHZ(American Standard) Single tag: 1m Group reading: 0.2m
Fingerprint
A: FBI fingerprint
B: Normal
High precise GPS
Ublox M8N, GPS+BDS+GLONASS, accuracy about 3meters
Function and Interface